As lovers of Classical and some Jazz music well know, sometimes music needs not even a syllable of lyrics to create vivid portraits and emotions in the mind of the listener.  Stirring, sweeping vistas and interactions can be conjured up in compositions created by masters of instrumental music, which is why the art form has endured and flourished for hundreds of years.
But what is commonplace for orchestras and some combos becomes remarkably noteworthy when a single acoustic guitar can accomplish the same and that is what D'Arcy Wickham has achieved with his new album, Signal Hill.
The disc by the master fingerpicker and veteran acclaimed instructor of guitar and other instruments is being released tonight at Black Swan Tavern as part of the Winterfolk Blues & Roots Festival.
The album is aptly named, because, like the early experimenters with radio waves broadcasting dots and dashes across the Atlantic Ocean from the Newfoundland ridge, the album trusts the listener to decipher meaning from the sonic impulses being transmitted.  That turns out to be easy to do.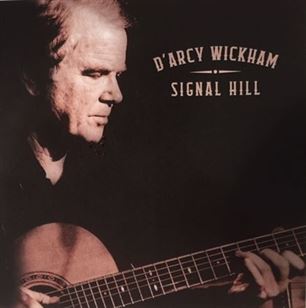 The title track of this delightful collection is a standout achievement of fingerstyle virtuosity and compositional acumen.  Through its rills and riffs you can feel the urgency of trying to reach out to connect as well as the majesty of mountains and terrain that surrounded the audacity of the pioneers seeking to bridge such awesome distances with only sound as a tool.
There's nary a vowel nor a consonant to be found on Signal Hill but what's offered is a voluptuous abundance of intricately arranged and delivered instrumental gems.
Half of the ten tracks have no accompaniment and all are originals except for a trio of fresh takes on covers: George Harrison's "Across The Universe", "Dogbite" by Jason Fowler (who also produced the disc) and "Windy and Warm" by John Loudermilk.  There are also two co-writes, including the stellar "View From The Top" (on which Drew Jurecka supplies lovely violin) D'Arcy's composed with his son, Oliver —who also makes an appearance playing piano on the finale track, "Abigail".
Signal Hill is yet another brilliant addition to the Wickham catalogue, which comes as no surprise to those acquainted with his illustrious career.
Rightly regarded as a masterful fingerstyle guitar player and also an award-winning songwriter of substance, D'Arcy Wickham may not be a household name but is on the speed-dial of an impressive group of fellow composers and a must-see performer for fans of stylish acoustic music.
In over 45 years of performing and with the release of three albums of original material, he has established himself in the foremost ranks of performers and crafters of authentic but polished songs combining Roots and Country traditions that are enduringly timeless, inviting many repeated listens.
As a teacher of guitar, ukulele, bass and vocals he has tutored highly respected artists such as Daniel Lanois and Liam Titcomb and had students referred to him by established performers such as David Wilcox, Gordon Lightfoot and Bill Cameron.
In the studio and on stage he has worked with a who's who of Canadian Adult Contemporary, Folk, Roots and Pop artists including Ian Thomas, George Olliver, Guideo Basso, Daniel Lanois, Raffi, Kathyrn Rose, Dennis Keldie, David Woodhead and Anne Lindsay.
The new album exhibits that formidable musicianship that won him the 2007 Songs With A Heart Award for the instrumental "Feather Fingers" —the title track of his 2005 second album, which was also produced by Fowler.
Whether picking on stage, recording in the studio, composing polished songs or imparting techniques and tips to students at all levels, D'Arcy Wickham's passion, distilled through precision and professionalism, creates exquisite results such as the new album exhibits.
Tonight's show runs from 7-9 p.m. in the second floor Social Capital Theatre lounge of the Swan and admission is free with your Winterfolk wrist band.  It should be a breathtaking experience to hear him perform this disc live.
Wickham also appears, btw, along with other all star guitarists like Tony Quarrington  as part of the Jack de Keyzer-hosted Blues jam in the same room from 1-4 this afternoon, but admission for that one is a separate $25 ticket.  And if you can't make it out to Winterfolk today but desperately want to hear him perform tunes from the album I'm sure he'll be obliging tomorrow night, when he's the host of the weekly Monday night open stage at Free Times Café.